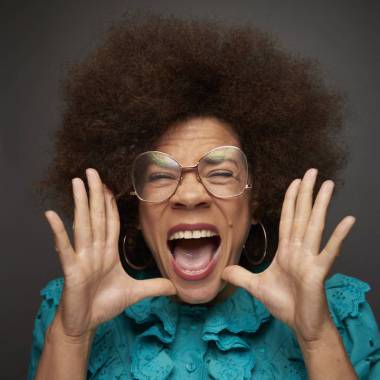 © Collin Hill Imagery
Babs Gons is a writer, performer, theatre-maker, host, and a creative writing teacher. She is part of the spoken word collective Clubspoken, and has her own performance collective: De Vurige Harten Club ('The Fiery Hearts Club'), which creates short, powerful performances about all kinds of themes, for different spaces and occasions.
Her nicknames range from 'Drama Queen' to 'Le Grande Dame of the spoken word'. She performs on countless stages in the Netherlands, can be heard and seen on radio and television and has taken her work to, among others, South Africa, Sudan, Great Britain and Belgium.
Babs Gons is also a juror of the J.M.A. Biesheuvel Short Story Prize, is a member of the regular readers panel of SLAA & Club Paradiso's book club Le Monde, and presents various programs – including her own musical-literary show 'Babs' Word Salon'. She writes a monthly column about the world of spoken word for literary magazine Awater, and supports the editors of literary magazine Revisor.
Atlas Contact published her poetry collection Doe het toch maar in 2021.
See also: Babsgons.com/
---
---
Want to know more?
For all your enquiries about Babs Gons please contact: Diana Gvozden.