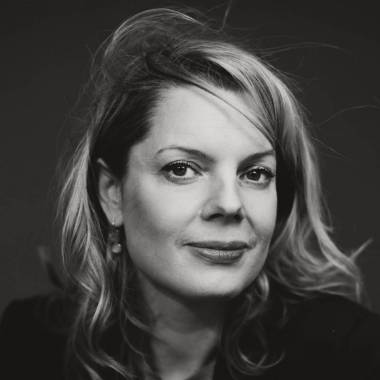 © Sanja Marušić
Herien Wensink (1977) studied Cultural Sciences and Dutch Language and Literature in Amsterdam. As a cultural journalist, she is able to combine her two greatest loves: writing and art. She has worked for Het Parool and Elsevier, and as an editor she was involved in 2006 founding of nrc.next. For the next ten years, she was a cultural editor for NRC Handelsblad. Currently, she is the theater editor at de Volkskrant. There, she writes leading articles: reviews, reports and interviews. She also has a monthly column.
Wensink graduated on literature from World War I, something she dedicated several articles to in NRC Handelsblad. In 2009, she wrote a series of seven parts about art from, or inspired by, WOI for the cultural pages. In her debut novel Kleihuid (Clay Skin), published in 2018 by De Arbeiderspers, she has translated her fascination for that era in a gripping historical novel about origins, identity, trauma, friendship and, of course, art.
Kleihuid is currently shortlisted for three major literary debut prizes: the Hebban Debut Prize (winner announced on September 30th); the Bronze Owl (winner announced on October 6th) and the biennial Anton Wachter Prize (winner announced early October).
---
---
---
Want to know more?
For all your enquiries about Herien Wensink please contact: Marianne Schönbach.