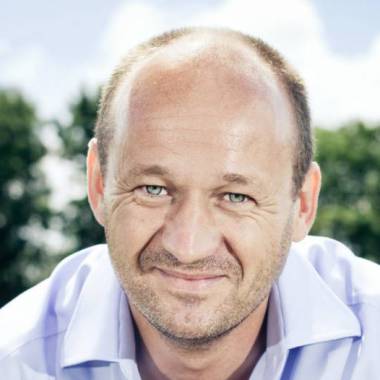 Patrick van Hees (1969) majored in Commercial Economics and Social Sciences, paying his tuition by working as a taxi-driver at night. After receiving his degrees, he took on many marketing jobs before becoming head of the marketing and sales department of Allianz at thirty. Following that, he became part-owner of an interim management office, For All Finance. Meanwhile, he also spent his time 'pursuing happiness'. The insights he gleaned from books and research on happiness were, mostly subconsciously, implemented in the strategies of his company. Patrick's own pursuit of happiness made him sell his company stocks in 2009.
Patrick used his knowledge on happiness to write the novel The Happiness Professor. Newspapers called Van Hees 'the Dutch Paulo Coelho'. Nowadays, Patrick is a fulltime writer, advisor and speaker on the topic of happiness. In his lectures and workshops – presented in the Netherlands, but also in Cambridge and Hong Kong, to name a few – he applies scientific knowledge and translates it to the real world in an accessible and very funny way.
Happy people are more productive, more creative and less likely to be taken ill: happiness really does influence your life. And Patrick loves to explain how with great enthusiasm.
See also: Patrickvanhees.com/
---
---
---
Want to know more?
For all your enquiries about Patrick van Hees please contact: Marianne Schönbach.