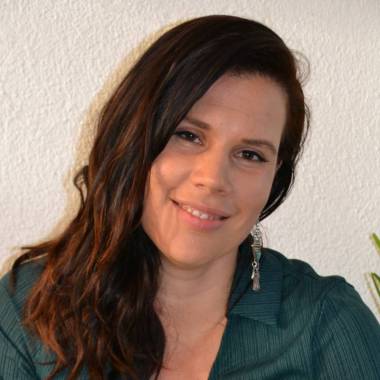 Sascha Groen (1984) is author and illustrator. She has dedicated her career to working with children, and specializes in the visual representation of children's perception of the world. This proved to be valuable when her husband and father of their children was diagnosed with a terminal illness at a young age.
Sascha wrote and illustrated Daddy Dragon will not get better, a comforting picture book for toddlers and infants that teaches children about illness, death and mourning in an honest and sincere way. It is a colorful book that combines a heavy topic with a good dose of wit. It is essential for every home, classroom, hospital or funeral center. Daddy Dragon will not get better will be published in June 2020 by Uitgeverij Witte Leeuw, an imprint of Uitgeverij Leopold.
Sascha finds words for painfull situations and breaks taboos. Her poems and prose on love and mourning bridge the gap between fellow sufferers and their loved ones. In addition to her writing and illustrating, Sascha currently works on an short animated movie on ALS, with which she hopes to help parents and their children cope with this disease.
See also: Weduweinopleiding.nl/
---
---
Want to know more?
For all your enquiries about Sascha Groen please contact: Stella Nelissen.