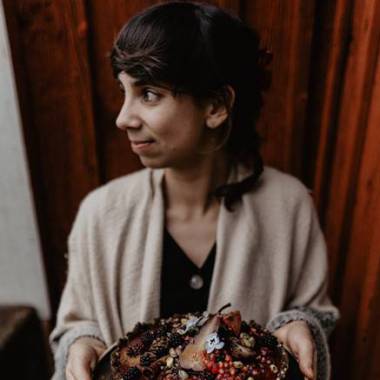 © Elaine Lilje
Originally from The Netherlands, Stephanie discovered the magic of Southern Sweden. These days she is the chef at Mundekulla Retreat Center, where she also works with organizational development and education. She is connected to several EU projects like the European Solidarity Corps (volunteer program) and Cirtoinno (on sustainable tourism in the Baltic Region).
​Stephanie loved cooking ever since she could hold a spoon. She comes from a family that has always gathered very much around food. Creativity, love, care for the environment, and good company are her favourite ingredients.
Stephanies award-winning cookbook was published Uitgeverij Brandt in the Netherlands and Bazar in Sweden. It won various international prizes, among which the Gourmand 2020 Awards for Best Hotel Cookbook in the World and Best Hotel Cookbook Sweden, and the Gourmand Award for Best Vegetarian Cookbook Sweden 2020.
---
---
Want to know more?
For all your enquiries about Stephanie Verstift please contact: Diana Gvozden.