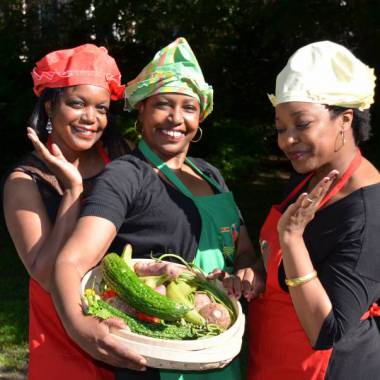 SuriMAM Cooking is a reference to the initials of our names: Moreen, Aretha and Martha, and is also a tribute to our mother Norine, who, as a single mother, has given us the love for this kitchen. Soso Lobi!
Born in Amsterdam and raised by a mother who emigrated from the Netherlands to the Netherlands in the early 1960s, the sisters have been very curious and enterprising from an early age. Moreen, the oldest, had already prepared the Waal family specialty at the age of six. At Aunt Alma's they learned to prepare Surinamese chicken, from Aunt Julia they learned how to cook salmon with sweet potatoes and their own mother taught them her specialty pom. The preparations, the solidarity and the cozy tories (stories) during the preparation of the meals were a true feast within the Waal family!
The sisters quickly came to the conclusion: these recipes can not get lost! They dug into the authentic Creole kitchen but also studied the nutrient-rich Surinamese vegetables. The result of this was published in 2017 at Luitingh-Sijthoff: SuriMAM Cooking. Looking for the soul of Surinamese cuisine, followed by a second and third cookbook in 2018 and 2020.
---
---
Want to know more?
For all your enquiries about SuriMAM Cooking please contact: Diana Gvozden.